Hawaii Adventures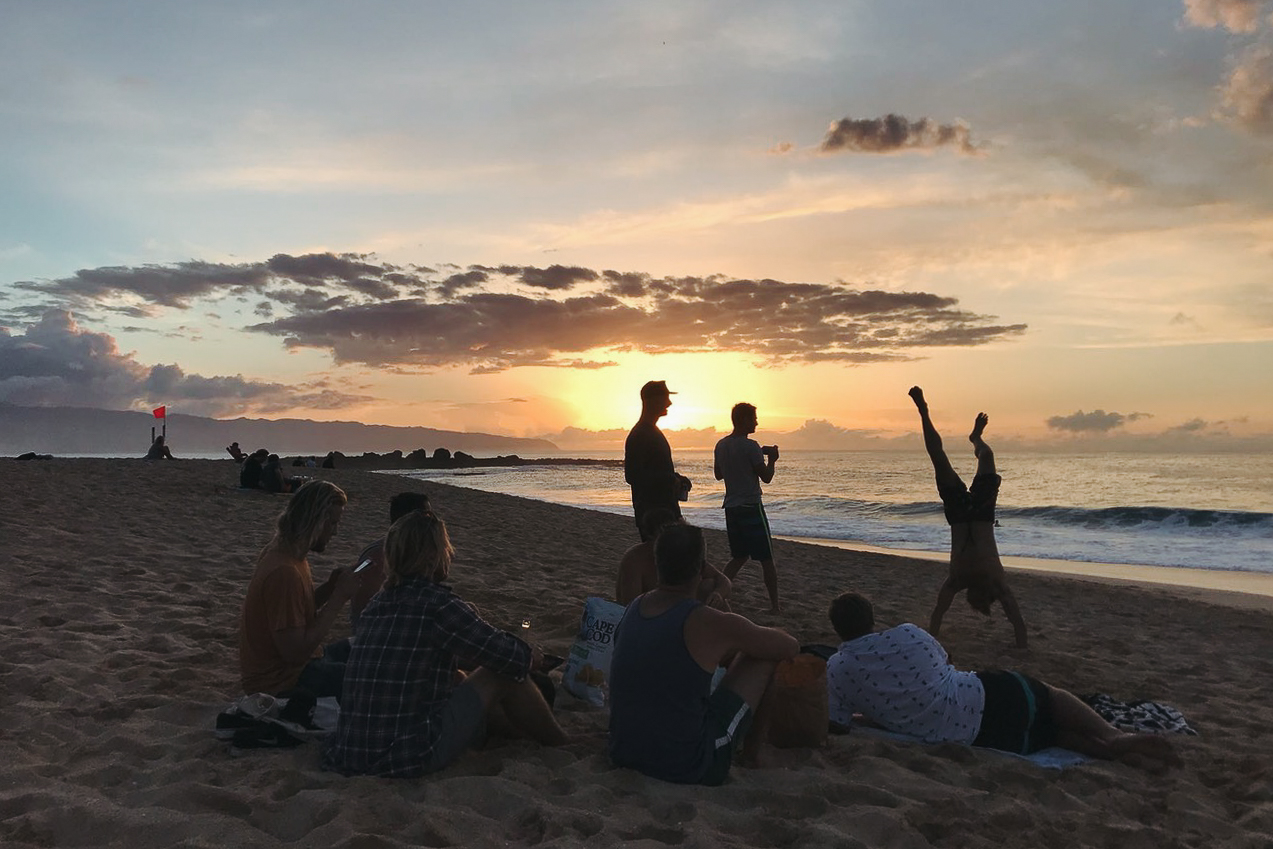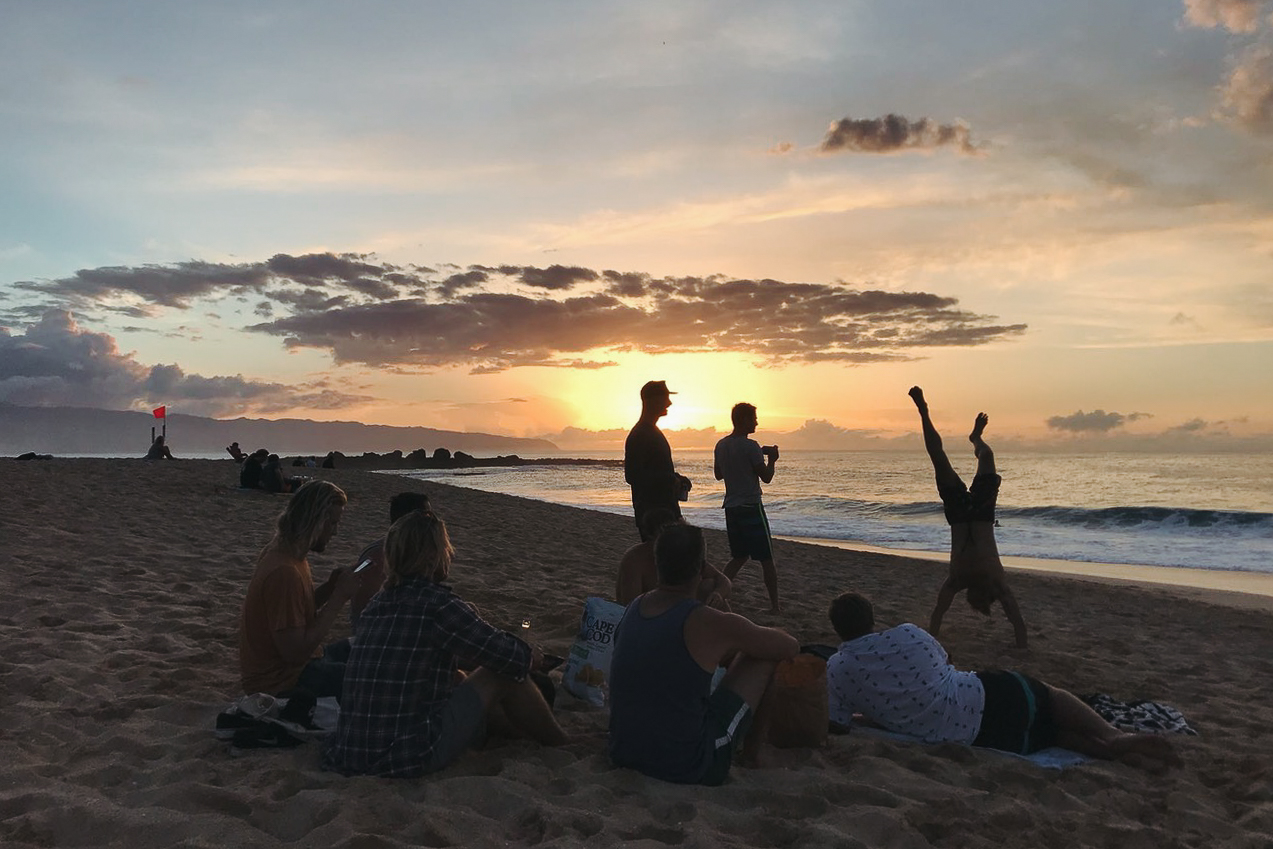 by Brett Davis
(Español debajo)
"Best surf trip I have ever been on!" That's a great rap from a number of Old Salts Australia plus a local CS Shaping Bay group from Wollongong who attended two one week surf trips to Hawaii. What made it so good? Let the guys tell their own story...
"I appreciated the community of guys being honest and transparent about real life issues."
"It was a great surf trip because it wasn't just about surfing, we got to serve the local community."
"It was good to do the building project at the church knowing the youth program would be ongoing."
"Sick waves, sick company, sick food, sick community!"
"I loved how were got to meet local people and not just be total tourists."
The first week had four Old Salts in their 50's and 60's enjoy their bucket list maiden Hawaiian tour. The surf was a manageable 4'-8' and highlights included seeing the Volcom Pipe Pro, surfing with two world champions in Kelly Slater and Carissa Moore, pushing our limits on bigger boards at Laniakea and Sunset Beach. CSI board member Eric Arakawa was so accommodating at his factory and we all got to see the shaping machine, froth over boards and be encouraged by Eric's gracious manner. Pastor Larry at Sunset Beach Christian Church introduced us to the staff and we were welcomed into the weekly life of the church. We took on a 7-metre deck build around a mango tree for the youth work and made a heap of progress ready for the team coming in the second week. Meals were shared and prepared and each evening had a facilitated conversation of a real life issue. Since some of the guys had an interest in woodwork, we toured a number of woodshops and galleries.
Week two was a much frothier team of 12, ranging from 28-55 from a local CS outreach called "The Shaping Bay" it had a mix of dedicated Christians, seekers and atheists alike. The amazing bonding of surf, community and God's spirit was palpable, with even the non-believers acknowledging that was something unique about the location and the team. Surf pumped from 20' and dropped to 4' during the week and most guys surfed some of the biggest waves of their lives. The deck was completed, one of our team had 12 stitches from a loose decking board and we talked story over a campfire at night burning the offcuts! We also picked up a couple of stray Aussies there alone who joined our company. One lone Brazillian was rescued by a member in the dark after being washed out to sea in a rip….all in a days surf in Hawaii!! Check out more photos and story here.
Read the reflections of one of our group, the editor of Swellnet, who penned this summary.
The next trip is planned for J-Bay, June 9-16, 2018 and open to not only 'old salts' but all friends of CS globally. A similar program will happen wth experiences with CS locally as well as visiting the township and a game park. Check out the event page on Facebook for more information!
"¡El mejor viaje de surf en el que he estado!" Es un gran comentario de parte de varios de los miembros de Old Salts Australia y algunos miembros de CS Shaping Bay de Wollongong que atendieron dos viajes a Hawai (de una semana cada uno). ¿Por qué fue tan bueno? Voy a dejar que los chicos cuenten su propia historia …
"Me gustó ver el grupo de chicos ser tan honestos y transparentes sobre los detalles reales de la vida."
"Fue un gran viaje de surf porque no se trató solo de surfear, si no que también pudimos servir a la comunidad local."
"Fue bueno completar el proyecto de construcción en la iglesia sabiendo que el programa de la jóvenes iba a continuar."
"¡Olas geniales, compañía genial, comida genial, comunidad genial!"
"Me encantó la forma en que conocimos a la gente local y no solo a ser turistas."
En la primera semana cuatro Old Salts (Sales Antiguas) en sus 50 y 60 años disfrutaron de su primera gira Hawaiana. El surf fue manejable, de unos 4 a 8 pies, y lo más destacado incluyó ver el Volcom Pipe Pro, surfear con los dos campeones mundiales Kelly Slater y Carissa Moore, y empujar sus propios límites en tablas más grandes en Laniakea y Sunset Beach. El miembro de la mesa directiva de CSI, Eric Arakawa, nos recibió muy amablemente en su fábrica y todos pudimos ver la máquina para formar las tablas, admirar las nuevas tablas y sentirnos animados con la amabilidad de Eric. El pastor Larry en Sunset Beach Christian Church nos presentó al personal y fuimos integrados en las actividades semanales de la iglesia. Nos propusimos construir un piso de 7 metros alrededor de un árbol de mango para el ministerio juvenil y avanzamos en las preparaciones para el segundo equipo que llegaba la siguiente semana. Las comidas fueron preparadas y compartidas juntos, y cada noche tuvimos una conversación facilitada sobre un problema de la vida real. Dado que algunos de los muchachos tenían interés en carpintería, recorrimos una serie de talleres y galerías.
En la segunda semana llegó un equipo más animado de 12 personas con edades entre 28-55 años de un ministerio local de CS llamado "The Shaping Bay". Tenía una mezcla de cristianos dedicados, buscadores y ateos. El increíble vínculo entre el surf, la comunidad y el espíritu de Dios fue palpable, e incluso los no creyentes reconocieron que era algo único sobre la ubicación y el equipo. Surf llegó hasta 20 pies y luego bajó a 4 pies durante la semana y la mayoría de los muchachos surfearon algunas de las olas más grandes de sus vidas. La plataforma se completó, uno de nuestro equipo recibió 12 puntadas gracias a una tabla de madera suelta y compartimos historias alrededor de una fogata en la noche mientras quemamos los restos de madera. También recogimos un par de australianos perdidos que se unieron a nuestra compañía. Un brasileño solitario fue rescatado de la playa en la noche por uno de nuestros miembros después de ser arrastrado al mar por la corriente ... ¡todo lo normal que ocurre en un día de surf en Hawaii! Vea más fotos e historias aquí.
Pueden leer las reflexiones de un miembro de nuestro grupo, el editor de Swellnet, quien escribió este resumen.
El próximo viaje está planeado para J-Bay, del 9 al 16 de junio de 2018, y está abierto no solo a 'Sales Antiguas' sino a todos los amigos de CS a nivel mundial. Será un programa parecido, con experiencias con el grupo local de CS, visitas a la comunidad y a un parque de juegos. ¡Mira la página del evento en Facebook para más información!